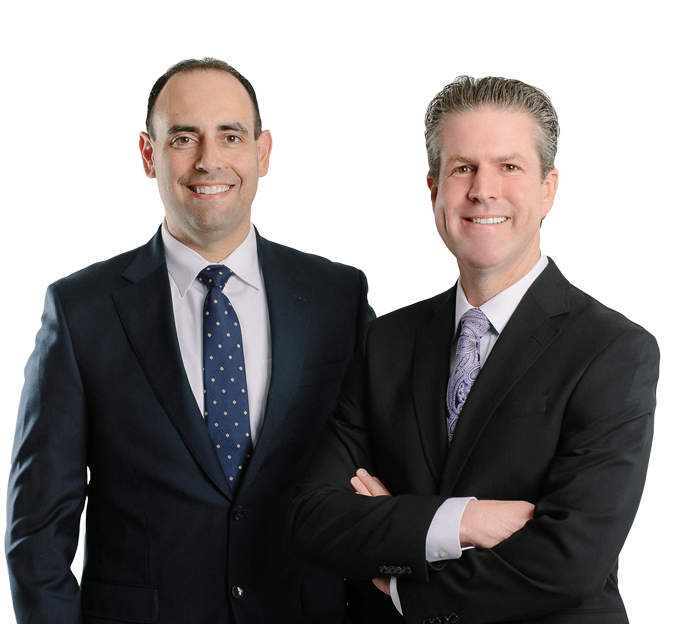 Las Vegas Car Accident Attorneys
We've assisted countless clients in your situation, and we want to help you too. We proudly offer free consultations to all potential clients so that we can get to know each other better before deciding on how best to proceed with your case. 

 Voted Top Personal Injury Lawyers

 Millions Recovered For Clients

 5 Star Ratings
You've Been the Victim of a Car Accident.
What now?
You need a Las Vegas car accident attorney. You've been injured in an automobile accident, and you're not sure what steps to take next. You don't know if you have a case, and you don't know how much money you'll receive in the event that you do. You may have already consulted with an attorney—and maybe you even hired one—but you're still not sure where to go from here. And now that it's been some time since the accident, there are probably insurance companies who are calling you trying to settle out of court for a reduced amount. Should you settle quickly? Or should you fight for more money? That's where our experienced team of personal injury attorneys can help.
What to Do If You've Been In a Car Accident
An attorney can help you get compensated for your losses after a car accident. A good start would be to hire an injury attorney who has experience representing clients in Las Vegas and elsewhere in Nevada. If you were injured in a car accident, the attorneys at Willoughby Shulman Injury Lawyers have considerable experience handling personal injury claims. We will investigate your case and help build a strong case for compensation on your behalf.
Common Causes of Car Accidents
The most common reason for automobile accidents is carelessness or negligence on the part of one or more drivers. In many cases, this can be attributed to texting, being on the phone, or adjusting navigation systems or the audio system instead of paying attention to the road and other drivers around you. You might also have been involved in an accident caused by a drunk driver. Whatever the cause, if someone else's carelessness caused your injuries and losses, contact an experienced attorney as soon as possible to discuss your options for compensation. 
Distracted driving is the most common cause of car accidents. It is any driving activity that diverts a person's attention away from the road. This can include using a cell phone, eating, reading, or using a navigation system. The most common distractions while driving are listening to the radio, talking to a passenger, eating and drinking. 
Drunk driving is the second most common cause of car accidents. Alcohol impairs judgment and slows reflexes, which can be very dangerous when operating a vehicle. Drivers with a blood alcohol content of .08% or higher are considered legally impaired. In addition to alcohol consumption, illegal drugs also impair judgment and reaction time, making them equally as dangerous behind the wheel. 
Drivers who speed are another common cause of auto accidents. Speeding increases the chance of an accident by making it more likely that drivers will not be able to react in time to avoid an obstacle in their path. It also increases the severity of an accident when contact does occur because of increased momentum on impact. 
Driving while under the influence, speeding, texting, or doing anything that impairs normal functioning can lead to extremely dangerous situations on the road, including failure to recognize danger signs and other unsafe actions. 
Drivers who have fallen asleep at the wheel are not only a danger to themselves, but to other drivers who may be in their path. Driver fatigue can cause drivers to nod off behind the wheel, at which point they're unable to react quickly or calmly in an emergency situation. 
Experienced Car Accident Attorneys Who Care
Our law firm is dedicated to achieving the best possible outcome for people who have been hurt in car accidents. This means that we are always prepared to take your case all the way to a jury trial, if necessary. We believe that each person deserves maximum compensation for their injuries, which is why we work hard to learn everything we can about the accident and your situation so that we can prove your case in the strongest possible way. You can be confident that you are getting an experienced attorney who is invested in your case when you choose us to represent you.
If you have been injured, our auto accident law firm will quickly get to work on your behalf. We will take a thorough look at every angle of your case and identify every possible way that you could be compensated for your losses and damages. We will work tirelessly to secure fair compensation for all of your losses, and we will do so with excellence, integrity and compassion.
We understand that this process is stressful enough without worrying about how you will pay for the medical bills or lost wages that come with being injured in a car accident. Our law firm offers free initial consultations so that you know exactly what steps you need to take after a car accident. You don't have to go it alone—we are here for you!
Build Your Case for Compensation
If you were injured in an automobile accident due to someone else's negligence, you may be eligible to receive compensation from them through a personal injury lawsuit — but only if you hire an attorney who will fight hard on your behalf! Our experienced attorneys will take
If you've been injured in a car accident in Las Vegas, it can be hard to know where to turn for help. At Willoughby Shulman Injury Lawyers, we offer experienced attorneys who are invested in your wellbeing. We understand that car accident are stressful and overwhelming, and we want to make sure that all of our clients feel comfortable throughout the process, no matter how long it takes.
We know that the legal process is confusing and intimidating, but we are here to help guide you through it. We will build a case for compensation based on your injuries, loss of wages or other damages, and make sure that you get what you deserve.
Schedule a Free Consultation
Contact our law firm by filling out the form below or call us to schedule a free initial consultation. We are compassionate, yet aggressive when protecting accident victims and families who lost loved ones in wrongful death accidents. Located in Las Vegas, our firm serves clients throughout the state of Nevada.
Wrongful Death
$4,025,000
Commercial Trucking Collision
$1,030,000
Motor Vehicle Collision Passenger
$800,000
Motor Vehicle Collision
$1,315,000
Commercial Vehicle Accident
$780,000
Motor Vehicle Pedestrian Collision
$1,265,000
What We Mean By "Every Client Matters"
Everyone has dealt with poor customer service. It is a universally frustrating experience. No one likes to spend money on a service that makes life harder, rather than easier, or feel ignored.
Sadly, it is a common complaint made against personal injury attorneys. Clients' feel they are taken for granted, especially if they do not have a million-dollar case. At Willoughby Shulman Injury Lawyers, we do things differently.
We believe every client matters and deserves individualized attention. No matter the size of the case, either Eric Willoughby or Steve Shulman will handle it personally. You will not be passed off to an associate.
We also believe it is important to be able to reach your personal injury attorneys. That is why every client can call, text, and email directly with Eric and Steve. Your case matters to us and we are here to help.
"Steve and Eric have represented several of my friends over the last five years. All of them have been thrilled with the results and the customer service. They are the best in town!"
"I am so happy and grateful for Steven and his team. They worked hard on my case, got the hospital and doctors offices to lower their bills and he even lowered his fees to make sure I got more money than the firm. I am very satisfied and would recommend this firm for professional good values and more. Thanks again for everything."
"I was completely overwhelmed after my car accident and choosing Willoughby Shulman was the best decision that I could've made. They guided me through the entire process and my outcome exceeded all of my expectations. They were always available to answer my questions, returned my calls promptly, and kept me updated on the progress of my case. I have the highest respect and appreciation for them."